Product recall risk on the rise | Corporate Risk & Insurance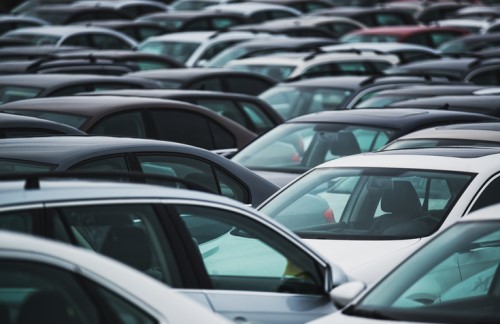 Here's advice you don't hear very often: it's best to avoid salad these days. That's because the Centers for Disease Control and Prevention (CDC) reported that a particularly dangerous strain of E. coli infection linked to romaine lettuce has spread to 16 US states. What's more – the CDC hasn't been able to find out where exactly where the lettuce came from.
Normally in a case like this, a product recall would be issued for a specific grower, supplier, distributor or brand. But in this case, the CDC issued a warning against all romaine lettuce, meaning that effectively every business associated with the product loses.
The fiasco should have risk managers for product recall-prone industries thinking – are we prepared for a recall event?
Recalls impact the automotive industry more heavily than any other sector, with the average claim value topping US$2.5m, according to an Allianz report. The food and beverage industry comes in second, with claims averaging US$1.6m.
"A crisis may be unpredictable, but it should not be unforeseeable," says Aon's newly released report, '2018 Emerging Trends in Product Recall and Contamination Risk Management.'
Bernie Steves, managing director of Aon Risk Services Crisis Management Practice, is one of the US' leading product recall, contamination, and food-borne illness insurance specialists and has been tracking developments in the product recall space about as long as insurance coverage for it has been around. "When I started in this industry, this was a very niche product," he says. "It's come to the point now where it's certainly becoming a mainstream product for many of the large and small consumer goods manufacturers."
Why now? "That's due to awareness more than anything else," he says. "20 years ago, if you didn't see it in the newspaper, it didn't happen."
Social media, he says, has changed everything. "The public, regulators, and manufacturers are now so aware of problems," says Steves.
How can risk managers manage the exposure? When it comes to product recall, Steves says these are the questions risk managers should be asking themselves:
How well-prepared for this are you?
Have you practiced it? Do you do mock recalls? Mock crisis exercises?
What kind of professionals do you have working for you – do you have professional crisis communications firms?
The reputational risk is a tricky exposure, says Steves. "Certainly, there are social media aspects you can use to mitigate that, but you can also manage it through a risk transfer or an insurance perspective," he says. "A [product recall] insurance product definitely goes hand-in-hand with pre-incident planning."
Reputational damage is also the toughest aspect of product recall damage to measure. "The recall itself is somewhat quantifiable," says Steves. "Where it gets difficult to analyse the exposure is the reputational aspect, and that comes down to loss of income, extra expenses, and rehabilitation cost. Then there's the question of how quickly customers will come back to your product. When will they feel the product is safe enough for them to use again? That's very difficult to predict."
But, as the report warns, it's not unforeseeable. "[Risk managers] need be prepared so that when something hits the fan, they are able to identify where those products are, can recall them quickly, get the proper message out there, and address the recall in an organised fashion ­– because frankly, that's what their customers are expecting them to do."
The heightened awareness has shot product recall risk management to the top of the agenda for many risk managers – especially in the food and beverage, medical, and automotive industries.
Here are some key takeaways from the report:
Food and beverage recalls on the rise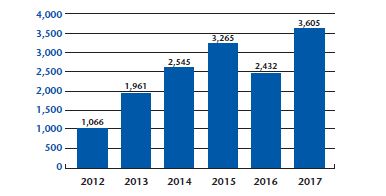 Source: Aon
The number of recalls issued by the Food and Drug Administration (FDA) has tripled since 2012.
Medical recalls increase slightly
(recalls and units)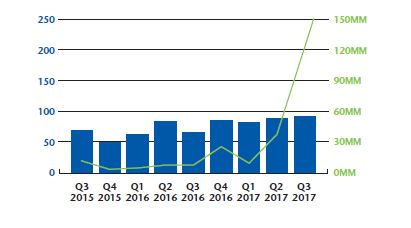 Source: Aon
The overall number of pharmaceutical recalls rose by 3% in 2017, but the number of units taken off the market increased by a dramatic 290%, according to the report. Failed specs were the leading cause of recalls, accounting for nearly a quarter of all events.
Auto recalls see a slight uptick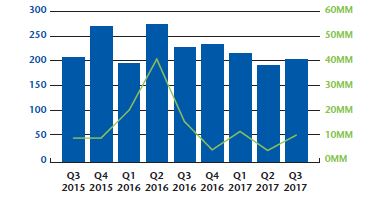 Source: Aon
Trends in the automobile industry look similar: the US' National Highway Traffic Safety Administration issued 5% more recalls than in the previous year, while units recalled rose by 76%.
Related stories:
Business continuity: managing disaster and disruption
When reputational disaster strikes, turn to crisis comms