Extensive supply chain? Trading across borders can cost you big | Corporate Risk & Insurance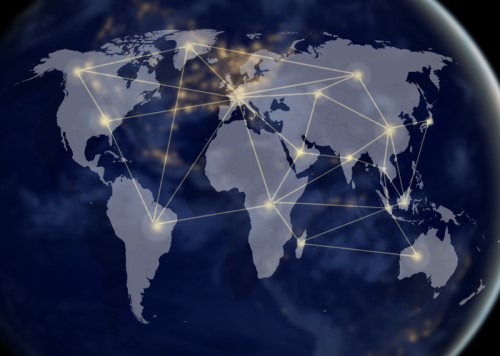 Exporting and importing goods costs time and money – in some countries, much more time and money. The World Bank Group's Doing Business project measures the time and cost associated with exporting and importing goods in 190 economies. Some of the findings might surprise you. Did you ever think that exporting goods from South Africa and India is as expensive and time-consuming as exporting goods from the Central African Republic?
Expanding operations to other countries can be a costly and complicated business, yet it's become a reality for many companies today, according to a Deloitte report. To stay competitive, companies are expanding globally by outsourcing materials and procurement overseas. Yet, due to differences in compliance measures and ease of transport, trading across borders will expose your company different risk levels depending on the country. Managing an extended supply chain carries risks and challenges that you may not have accounted for in advance. Overall, you're better off trading across North American and Western European borders, but some of the findings might surprise you.
The most recent round of trading data from the World Bank was gathered in June 2017, with scores based on three indicators: Documentary compliance, border compliance, and domestic transport – within the overall process of exporting or importing a shipment of goods. This data highlights the need to stay abreast of the many complex regulations that impact where and how organisations do business in other countries. Risk managers of corporations with extensive supply chains or operations within low-scoring economies will manage a larger litany of exposures.
Trade costs you less time, money across North America and Western Europe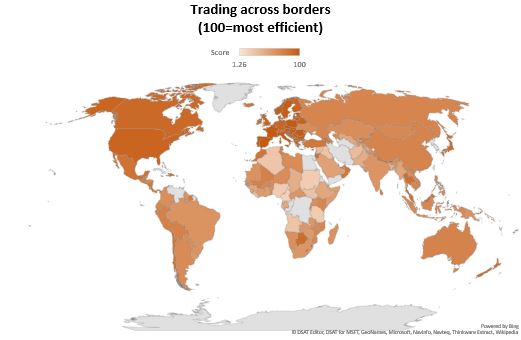 Source: World Bank Doing Business
Flashpoints to note:
• Denmark, France, Italy, Netherlands, Spain, and Belgium were among the top-scoring economies (100)
• Bhutan, Serbia, and Greece ranked higher than the UK (93.76), and Swaziland (92.92) beat out the US (92.01)
• Germany, Switzerland, and Lesotho tied (91)
• Singapore (89), Canada (88), Japan (86) New Zealand (84) all finished in the top 30th percentile
• Australia (70) and China (69) finished in the middle of the pack
• The major developing economies of Brazil (59), India (58), and South Africa (58) scored the same as the conflict-ravaged Central African Republic (58)
• The Democratic Republic of Congo (1.3) scored the lowest


Related stories:
Insurance premiums – the winners and the losers
Water risk: Is your basin bad for business?