Does Tesla have a Musk problem? | Corporate Risk & Insurance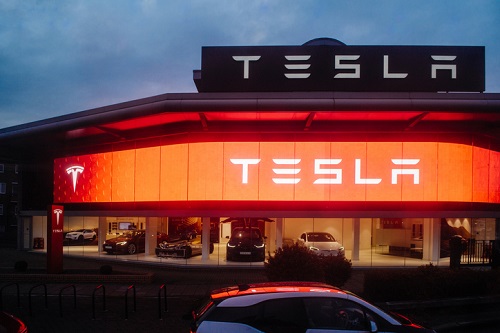 by Dana Hull, Keith Naughton and David Welch
It is nearly impossible to imagine Tesla Inc. without Elon Musk, its chairman, CEO, largest shareholder and public face.
But a US Securities and Exchange Commission lawsuit has raised questions about the executive's future at the clean-energy company, sending shares spiraling. The agency accuses Musk, 47, of misleading investors with his infamous Aug. 7 tweet about taking Tesla private, and seeks to ban him from serving as a director or officer.
That possibility, however remote, casts a pall on the final days of a rocky quarter and is likely to renew concerns about Tesla's lack of an operating chief or other clear No. 2. This weekend was supposed to be one for celebratory milestones, with thousands of Model 3 sedans finally making their way to customers at delivery centers across the country as the company makes a final push to achieve sustainable profits. Instead, drama surrounding Musk is once again taking center stage.
"If Elon Musk resigns or is not the CEO, Tesla is a fundamentally different company that is less attractive to us," said Ross Gerber, chief executive officer of Gerber Kawasaki in Santa Monica, California, which holds Tesla stock.
Tesla shares plummeted as much as 14 percent before the start of regular trading Friday. Aside from the drama surrounding Musk's tweet saying Tesla may go private -- and his decision less than three weeks later to stay public -- the company has been grappling with the departure of several top executives, most recently its vice presidents of global supply chain management and worldwide finance. The Justice Department has also opened a fraud investigation.
Tesla and its board "are fully confident in Elon, his integrity, and his leadership of the company," directors said in a joint statement Thursday. "Our focus remains on the continued ramp of Model 3 production and delivering for our customers, shareholders and employees."
Big Sales
Tesla has recently emerged from months of what Musk called "production hell" and now finds itself in what he's said is "delivery logistics hell." The company is in a race to get its key Model 3 vehicles to customers by the end of the third quarter, which will likely lead to "huge" sales figures just as some investors flee with the SEC suit, Gerber said.
"Tesla is going to blow the sales numbers out of the water, but Elon's stress and meltdowns over these past months have had a real impact on the company," he said.
Musk was uncharacteristically silent on Twitter Thursday, but said in an emailed statement that "this unjustified action by the SEC leaves me deeply saddened and disappointed." Tesla's board, which includes Musk's brother Kimbal Musk, is closely aligned with the CEO. The company itself wasn't targeted in the lawsuit.
"This was clearly a self-inflicted wound and it comes at a time that is critical for Tesla, which doesn't need any more challenges," said Michelle Krebs, senior analyst with researcher AutoTrader. "They're under financial pressure to turn things around and facing an onslaught of new competitors."
'Visionary' Role
Earlier this year, shareholders rejected a proposal to split Musk's role as chairman and CEO and awarded him an unprecedented compensation package that paves the way for him to stay at the company.
"There's a 50-50 chance Musk gets removed as CEO but there's a 95 percent chance that he stays at the company," said Gene Munster, a managing partner at venture capital firm Loup Ventures. "I think the SEC lawsuit has scared people. This may give the board the backbone to put Musk in a visionary role. Shareholders want him to stay on as the visionary."
Tesla makes the Model S sedan, Model X SUV and the Model 3 at its lone auto plant in Fremont, California. The company has huge ambitions to disrupt not just the auto industry but the energy markets by selling large batteries to utilities.
Musk has a laundry list of big, capital-intensive projects on his to-do list: to construct a factory in China, build a semi truck and Model Y crossover vehicle, deploy self-driving technology and finish developing a solar roof product.
Tesla's lofty market valuation -- $52 billion at the close Thursday -- hinges on the expectation that Musk will deliver on those goals, said Maryann Keller, an independent auto industry consultant who used to be on the former Dollar Thrifty Automotive Group board.
The company also had more than $10 billion of debt, but only $2.2 billion in cash as of the end of the second quarter. Musk traditionally has had little trouble raising money on Wall Street.
"Without Elon, Tesla would be a debt-laden automaker that's burning a ton of cash," said David Whiston, an analyst with Morningstar Inc. in Chicago.
"There's a ton of risk for the stock because the Tesla story is all about continuing to gain access to the capital markets," Whiston said. "As a potential investor, do you really want to invest in this company without Elon Musk? Personally, I think it would be very dangerous to do so."
Just how bad is Tesla's problem?
Elon Musk's run-in with the Securities and Exchange Commission may cost Tesla Inc. almost half its market capitalization, Barclays analyst Brian Johnson said, adding that the company's stock has about $130 of "Musk premium" per share that could dissipate.
"Should the SEC be successful in barring Mr. Musk from serving as an officer or director, investors would focus back on the value of Tesla as a niche automaker, rather than a founder-led likely disrupter of multiple industries," Johnson wrote in a note to clients. He holds the equivalent of a sell rating on the stock, with a price target of $210, below the average price target of $301 according to data compiled by
Tesla shares sank 12 percent pre-market, trading near $270 as of 8:23 a.m. in New York, after the SEC sued Musk on Thursday, alleging that the electric vehicle maker's chief executive officer misled investors through his "taking private" tweet on August 7. The commission could bar Musk from serving as an officer of a public company.
Copyright Bloomberg News